Virat Kohli has found himself in trouble by annoying a lot of Cricket fans in India by responding to a countryman in an unexpected way. In a video from his newly launched app, a fan tells Virat that he is just an overrated batsman and there's nothing special in his batting.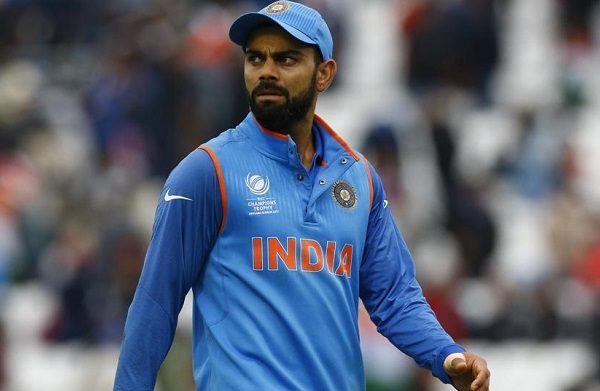 The fan says-
"Overrated batsman and personally I see nothing special in his batting. I enjoy watching English and Australian batsmen more than these Indians."
In reply, Virat suggests him to leave the country if he can't like domestic cricketers. He says-
"Okay, I don't think you should live in India then. You should go and live somewhere else, no? Why are you living in our country and loving other countries? I don't mind you not liking me but I don't think you should live in our country and like other things. Get your priorities right."
Watch the video below-
Is #Kohli asking his non-Indian fans to leave their country and come to India🤔🤔.. Or to sort their priorities? #WTF pic.twitter.com/tRAX4QbuZI

— H (@Hramblings) November 6, 2018
This statement of Virat has not been liked by Twitterati and they trolled him badly for it.
#1
Is #Kohli asking his non-Indian fans to leave their country and come to India🤔🤔.. Or to sort their priorities? #WTF pic.twitter.com/tRAX4QbuZI

— H (@Hramblings) November 6, 2018
#2
Is #Kohli asking his non-Indian fans to leave their country and come to India🤔🤔.. Or to sort their priorities? #WTF pic.twitter.com/tRAX4QbuZI

— H (@Hramblings) November 6, 2018
#3
Is #Kohli asking his non-Indian fans to leave their country and come to India🤔🤔.. Or to sort their priorities? #WTF pic.twitter.com/tRAX4QbuZI

— H (@Hramblings) November 6, 2018
#4
Is #Kohli asking his non-Indian fans to leave their country and come to India🤔🤔.. Or to sort their priorities? #WTF pic.twitter.com/tRAX4QbuZI

— H (@Hramblings) November 6, 2018
#5
Is #Kohli asking his non-Indian fans to leave their country and come to India🤔🤔.. Or to sort their priorities? #WTF pic.twitter.com/tRAX4QbuZI

— H (@Hramblings) November 6, 2018
#6
Is #Kohli asking his non-Indian fans to leave their country and come to India🤔🤔.. Or to sort their priorities? #WTF pic.twitter.com/tRAX4QbuZI

— H (@Hramblings) November 6, 2018
#7
Is #Kohli asking his non-Indian fans to leave their country and come to India🤔🤔.. Or to sort their priorities? #WTF pic.twitter.com/tRAX4QbuZI

— H (@Hramblings) November 6, 2018
#8
Is #Kohli asking his non-Indian fans to leave their country and come to India🤔🤔.. Or to sort their priorities? #WTF pic.twitter.com/tRAX4QbuZI

— H (@Hramblings) November 6, 2018